Administering user accounts¶
Only Administrator users can perform user administration tasks. These are:
Managing domains
Managing users
Managing API clients
Managing Domains¶
A "domain" implies a corporate email domain. Most organizations have one unique domain, but others may have different domains for sub-organizations.
Note
You must add a domain before you can add any users. The primary domain for your organization will be created during the Hyperview onboarding process.
Adding a new domain¶
1. Go to Domains → Add Domain. 3. Enter a valid corporate domain.
The page will refresh showing a confirmation message and the newly added domain.
Removing a domain¶
Click the domain's Remove button.
A confirmation message will appear upon deletion.
Managing users¶
You can add, edit, lock or delete user accounts.
Managing API clients¶
You can create user accounts for API clients, which let you programmatically integrate with Hyperview's RESTful APIs.
Adding an API client account¶
In the user management portal, under User Administration click API Clients → Add API Client.
Provide values for Description, Role, and Access Policies. If you are unsure of which access policy to use for the API client, select Default.
Click Add and Download Credentials. A "client_credential.json" will be downloaded to your browser's default download location. A confirmation message will appear in Hyperview, and the API client will be listed.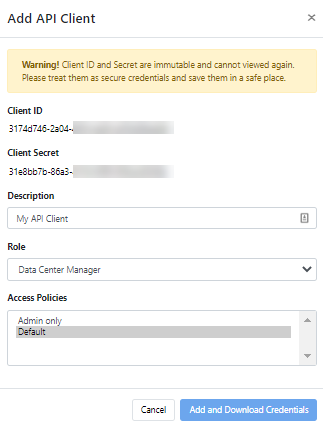 Note
Please treat your API client credentials as you would for a human user, and store it in a safe place. The Client ID and Secret values cannot be modified after the API client has been created. If you have previously downloaded the client credentials file, an incremental digit will automatically get appended to the filename (such as "client_credential (2).json" in Google Chrome).
Deleting an API client account¶
Click the Delete button on the intended row.
A confirmation message will appear.